Dark Pah-wraith

's Profile
Reputation: 35
Group:

Members

Active Posts:

1,894 (1.08 per day)

Most Active In:

Chit Chat (1072 posts)

Joined:

02-March 09

Profile Views:

12,165

Last Active:

Nov 03 2011 01:15 PM

Currently:

Offline
My Information
Member Title:

Soylent Green

Age:

25 years old

Birthday:

July 30, 1988

Gender:

Male

Location:

Baltimore

Interests:

programming, gaming, tinkering, inventing, paranormal and pseudosciences.... ya know, fun stuff
Contact Information
E-mail:

AIM:

ryantheoverlord
About Me
TuKéZu made my day with this. It is true, attempting to ban me results in epic failure.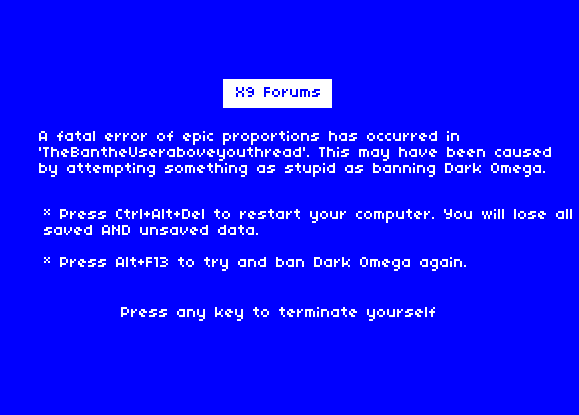 --------------------------------
I tried to make Nightmare Zero's purple aura by mixing up chemicals then burning them. It failed and the stuff I did make burned the fucking hell out of my hand. Here, watch my pain!
Formerly known as Dark Omega
My Facebook
Tis too much proved--that with devotion's visage
And pious action we do sugar o'er the devil himself.