Mega Man Xtreme 2 OFLC Rating Get
By Mac | 12 April 2014 - 12:26 AM
It would seem that Mega Man Xtreme 2 might have won
the voting bout on Capcom Unity
for which handheld Mega Man title to be released next on the 3DS Virtual Console.
GoNintendo has notified the public
that Mega Man Xtreme 2 has received an OFLC (Office of Film and Literature Classification) rating. G stands for
General
; suitable for all audiences. So I reckon said audiences will be gettin' down on some portable X action before long.
X & Co. Featured in Mega Man's Final Smash
By Mac | 08 April 2014 - 11:03 PM
"Click image to see animated version!"
Today, April 8th, 2014, marked the first
Nintendo Direct dedicated exclusively to the new Super Smash Bros
. Going one-on-one with Sakurai, he dished out a plethora of info which filled the approximated 39 minutes end to end. The direct was split into sections detailing game and character features, and when the Final Smash category came around, many were eager to see what Mega Man's had in store. The camera, zoomed close, showed a serious Mega Man with Buster charging, suddenly zooming out to reveal what you see above. All of Mega Man's later incarnations, X by his side, joining Rock for one multi-blast assault!
It goes without saying, that's pretty damn incredible, and a prime example of fan-service! What's more, is that a few other Mega Man-related things were revealed.
In the form of an Assist Trophy comes Elec Man! Complete with Thunder Wave, he runs and jumps around as he once did, jolting foes and causing damage.
In the 3DS exclusive mode, "Smash Run", Mettaurs are featured as regular adversaries amongst the stages.
Finally, the biggest tidbit were details about a certain devil who is yellow. The "Wily Castle" stage features the Yellow Devil as a stage hazard, which many already assumed. As you combat your opponents in the stage, the Yellow Devil will fly from the castle and assemble himself on the battlefield. Using familiar attack patterns, he holds no alliances, attacking anyone in his way. Players can choose to attack him, or allow him to hurt their opponents. Though if one decides to attack and destroy the Yellow Devil, he will cause a massive explosion similar to the "Smart Bomb" item, and anyone caught in its wake will incur heavy damage.
As usual, his eye is his weak spot!
Do note that the 3DS version of this Smash Bros installment will be released sometime
Summer 2014
, while the Wii U version sometime the
same year in Winter
. More relative information will be shared as it comes!
Rockman X "Ver.Ke" Model Kit Teased
By Mac | 01 April 2014 - 04:36 AM
"Click for Full Size"
There's nothing quite like an adequately crafted, perfectly proportioned model/figure. No matter the company, they always seem to come out meeting or exceeding fan's expectations of what a tangible version of their favorite game or anime character should be. In short, a sincere form of fan-service.
Well, it would appear Capcom themselves are stepping into the fray with their own interpretations under
"Capcom Creators Collection" or C.C.C
. The C.C.C brand is a marriage between Capcom designers and artists to present existing characters in refreshing new ways in the form of figures. What better character to inaugurate this line than Mega Man X? And what an amazing design this is...
"Click for Full Size"
Just look at that. Fabulous if I do say so myself. It's designed by Mizuno Keisuke, the artist for Mega Man Powered Up and Maverick Hunter X.
Rockman Unity
breaks down the specifics...
Size: 4/1 scale

Material: Titanium-X

Price: 4.1 million Zenny

APIF model number: SHVC19931217RX

Release date: April 1st, 21XX

NOTE: special modeling kit nippers needed to penetrate Titanium-X. Basic welding and electrical skills are required.
No pre-order dates have been listed yet but--...wait, what? *Erm, erm*...this simply has to be an April Fools joke from
Ucchy and the Rockman Unity
. Right? I mean, this really is a stellar design in all respects. Looks like a lot of work went into the ruse, but you never know.
I definitely wouldn't mind owning such a cool figure. Of course, some may find it in poor taste for Capcom to "tease" such a thing when they haven't delivered
such a thing
in other departments. Sure, there's been merchandise galore, but damn. If not a figure, this would be a great new look for a Mega Man X9! Wouldn't you agree? Oh well. It's some delicious eye candy, at least. =3
Immediate Notice: The future of X9.com
By Vérité | 01 April 2014 - 04:28 AM
X1-X4 Digitally Available on The Capcom Store
By Mac | 25 March 2014 - 06:24 AM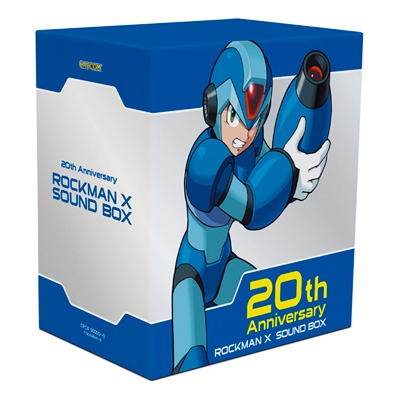 Can't get enough Mega Man X music in your life? I know it's always a staple in mine. If you need your fix, the soundtracks of
Mega Man X
,
Mega Man X2
,
Mega Man X3
, and
Mega Man X4
are now available digitally on the Capcom Store for the reasonable price of $8.95. Again, that's
digitally
. While it's likely most of us already have these OSTs since the music's been available all these years, this is a good way to show support and get an official release, especially if you don't already have them!
These tunes were also provided in the "Rockman X Sound Box" set seen above, released last year in Japan. This set is still available across various locales online, though remaining rather pricey. With the soundtracks being distributed individually and priced the same, buying them all will probably equate to spending less for the collection, assuming the the rest of the series' music will be made available. I think it's an inevitability.
Beta Rockman X5 Version Released
By Mac | 16 March 2014 - 07:38 AM
Every now and then, there comes a time when history refuses to remain in the past. These such times are exemplified by the unearthing of rare and interesting prototypes and betas. None more so interesting than those of the Mega Man variety. Today,
Protodude
shares with us a beta dump of Rockman X5 which is an early build that garnered
a lot of press
back in 2000. Found within are
five playable stages
with differences peppered throughout. Nothing major, but some certainly noticeable such as the
alternate health bars and early sprites/backgrounds
.
Perhaps most appealing, or rather enthralling (at least to me) are 17, count 'em,
17
previously unreleased music tracks (aside from 'ol Duff's)! I'm a major sucker for prototype audio and early versions of songs we've grown to know so well. It's like walking through time into the minds of the musicians as they were creating these timeless themes. It's history, friggin' history. To take a listen,
click here
to go directly to a
playlist
on YouTube provided by
SuperMega233
.
Some of the variations are quite remarkable. The Stage Select theme sounds really nice, probably complete. Although I bet it was rejected in favor of the final due to the "urgent" nature of the game. The "Unused" track sounds like it could have been Light's Capsule theme before the remix was chosen. I actually feel Zero's Intro Stage is superior to the final, while less "rocky", it has an emotional ambiance about it. X's Intro Stage has changes in the synths and even lacks the final section which bridges back to the beginning. Not even thought of yet. History!
Click here to get your hands on this desirable dump
. As always, feel free to do a little snooping. Never know what else you might find!
Archie Mega Man X Crossover Confirmed!
By Mac | 04 February 2014 - 12:40 AM
Destructoid
brings us some Xcellent news! Archie confirms that starting with issue #37, the crossover between Mega Man and Mega Man X entitled "Dawn of X" will begin, consisting of four parts.
Opposed to the assumptions of many fans, this story won't deliver a solid explanation to the events that occurred between series, but rather "clever storytelling tools to link the franchises in a way that doesn't fill any gaps best left to the fan's imagination." So it looks like, as with other material, it just gives us more to work with. That's okay though, because until there is an official bridge in the main continuity, things are still up in the air.
Just like in interviews before, the team at Archie seems totally thrilled to be working with the Mega Man franchise as a whole. There's a clear passion that I'm sure will translate well onto the pages of their comics. Ian Flynn comments,"
When I was told we had "Mega Man," I was excited, but my first question was "What about Mega Man X?
", and Paul Kaminski adds, "
I think everyone, both Archie team and readership alike, were dying to do an "X" story from day one, it was just a matter of timing... We worked closely with the great team over at Capcom and put together an entrance point into the Mega Man X franchise that I think both fans and new readers will love.
"
My interest is piqued and my hopes are high for this new storyline. I mean, it's Mega Man X, any new material covering the character his series is Xciting! (okay, I'll stop with the stylizing) More information is sure to be divulged soon enough, but until then, do read the full article over at
Destructoid
. Take a gander at that incredible artwork too!
Mega Man X Archie Comics Crossover Teased
By Mac | 31 January 2014 - 12:24 AM
Well, it's been a long time coming, but we finally catch the first actual glimpse of what's in store for the forthcoming Mega Man/Mega Man X crossover event. No details have been dispensed yet aside from this somewhat eerie teaser image. X kneels down and peers into a hole, seeing the original Mega Man's helmet, dirty and broken. It would appear this crossover special will attempt to tell the tale so many of us have wondered. The void that we've all tried to fill. What happened to the original Mega Man in the bridge between the series?
Personally, it would seem as though Rock fell on hard times due to the damage to the helmet. I've always been fond of the "Cataclysm Theory", if done with tact. No bloody massacre nonsense, cut and dry, but a pivotal conflict with sensible story elements. What I've personally devised for such an event makes sense. As for what the folks over at Archie have in mind? I suppose we'll see soon enough. Updates will be posted as they come. I'm pretty excited! (the artwork looks amazing!)
Unused X1 Music Unearthed
By Mac | 07 January 2014 - 06:01 PM
Thanks to
SuperMega233
, the mysterious and much anticipated unused
Mega Man X
track(s) from the
Rockman X 20th Anniversary Sound Box
have been isolated and uploaded for the eager ears of fans unable to nab one of the sets.
That's right, there's an "s" after "track" because originally, we thought only one unused tune was to be included, but there's actually four! Well, one tune
really is
unused, and that's the first song in the video. It's unclear what this track was meant for, but it sounds to me like it could be an upbeat stage select theme, a weapon get theme, or maybe a password theme. Regardless, I like it, and it's kinda surreal to hear a fresh X1 track all these years later! The following tracks consist of early, unrefined, but largely completed tunes; Chill Penguin's theme, Maverick Encounter, and Sigma Stage 3. Key differences are alternate instrumentation or missing instruments all together.
In the end, I think it's neat to hear these early works, even if it's nothing as "Xplosive" as I'd imagined, such as a theme for the prototype "White City" intro stage. It's good to know that these unused tracks weren't disposed of, though. Thanks for the little bonus, Capcom!
X2 on the Wii U!
By Mac | 02 January 2014 - 08:44 PM

The second installation to the beloved, now twenty years young, X Series has been released on the North American eShop Wii U Virtual Console. Above is a nicely done trailer displaying much of what X2 has to offer in terms of gameplay and challenge, as well as being able to play on the big screen or gamepad. The masterpiece that is the original Mega Man X was a tough act to follow, but X2 is widely hailed as a righteous successor and a favorite of many. Pricing is $7.99 or a mere $1.50 if you already purchased it on the original Wii.

Remember, fellas! Each purchase is a sign of support and interest. We'll surely see X3 in due time, maybe more!
» NEWS ARCHIVE «