True Blue Mega Man amiibo Revealed!
By Mac | 11 November 2014 - 05:28 AM
At last, the moment we've been waiting for! The Mega Man amiibo has finally be revealed by Nintendo of Japan's new amiibo centric website! Mega Man will be featured in the 3rd Wave of amiibo figures slated for release in February, 2015 in America, Europe, and Asia. I think it looks pretty damn good. Great coloration and gloss on the metallic parts. Definitely picking one up, without a doubt. Be sure to check the site for all the other new amiibo reveals!
Rockman: Sounds of Future Past
By Mac | 28 October 2014 - 07:41 PM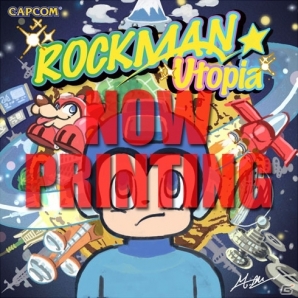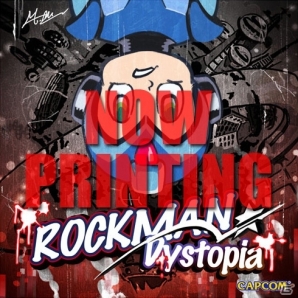 If you're like me, then you like, no, love the music found in the Mega Man franchise. Especially the timeless tunes found in the X Series. Luckily, the franchise is no stranger to numerous fan tribute and official arrangement albums.
There are two new albums set to reach listeners come the new year. The first is Rockman Utopia, featuring what is desribed as "light, techno pop" remixes of Classic tunes, is set to drop January 14th. The second, to be released February 11th, is Rockman Dystopia, a collection of "tragic hardcore techno" X tracks. Both will contain a single disc and are priced at 3,300 Yen, which equates to about . Initial prints will feature a special paper craft graphic of classic Rockman for Utopia and our boy X for Dystopia.
Coming from the same group, Basiscape, that brought us the 25th Anniversary Techo and Rock albums, the quality and style of these new soundtracks are sure to be top notch. My ears are eager to hear their new work. Hopefully there will be some new twists on some lesser covered songs!
Mega Man X Brought to Life Through Chalk!
By Mac | 15 October 2014 - 04:09 AM
Mind-bending chalk art illusions have been a consistently impressive form of art found on sidewalks and other such flat canvases. The individuals who create such works of art are extremely talented and masters of perspective. This one is certainly no exception. A beautifully chalked and colored Mega Man X is brought to life through artist Chris' skill. Good stuff! Be sure to check out his other videos for more awe-inspiring creations!
"Mizuno Mega Man X" Figure a Reality
By Mac | 09 October 2014 - 08:54 PM
Remember back in April on that day of Fools? An amazing Mega Man X figure was teased in the form of a piece of artwork by Keisuke Mizuno. With it was a spec sheet detailing the figure, but something seemed fishy. Some of the specifications were a bit farfetched. It turned out to be nothing but an elaborate April Fools day ruse...or was it?
According to Protodude's Rockman Corner, that very figure is actually happening. It's going to be a real, tangible thing, and I am not displeased. You may remember back in June where Protodude was polling the opinions of the people towards an unprecedented new Mega Man X figure. Well, wouldn't you know? Through the voice of the masses, the figure we once thought was a farce; a chuckle in the offices of Capcom, was set in motion.
I was salivating over the gorgeous artwork in all its technological splendor, but now we have physical prototype builds of the figure that look outstanding (I can't wait to see it color!) Furthermore, we have an accurate spec sheet this time!
15cm in height, about the same as the D-Arts/Figuarts Mega Man figures.
Diecast armor on the chest, shins, and feet.
20 points of articulation.
LED functional X-Buster that can be attached to either arm.
2 additional sets of hands in a fist and splayed formation.
Extra "shouting" faceplate.
Opened and closed swappable back thrusters.
Attachable blast effect accessory for the X-Buster.
Tentative March/April 2015 release.
Produced by TruForce Collectables.
Bluefin distributing in North America.
Colored prototype will be on display in February at the New York Toy Fare.
Price is TBA.
Yes, yes, I know. Some of you may be bellyaching that it's just another figure and I get you, but this seems to be a larger project than what we've received before and it shouldn't be dismissed so easily. The extra mile seems to be the route taken.
Like many projects these days, there will be a Kickstarter forthcoming in which to fund the figure's production. As one would expect, there will be exclusive backer rewards. Keep an eye on TruForce's Facebook or Twitter for updates on the matter, and of course, check back here or at Protodude's for the full scoop!
Mega Man X5 Now on NA PlayStation Store
By Mac | 09 September 2014 - 11:20 PM
After Mega Man X4 released just six days ago on the North American PSN, it's Mega Man X5's turn in the spotlight! You can download it for the same 5.99 price tag as its predecessor for play on your PS3 and Vita all the same. I saw some images across the net of X4 running on the Vita and it looks delightful. Fits like a glove! I'm sure X5 will follow suit. As for X6, it's still waiting for its time to shine. I'm sure it's only a matter of time, but there's also legal and licensing hurdles to jump over before older titles can re-emerge. I'm sure the Japanese opening and ending themes are part of the obstacle course.
Ehh, what are ya gonna do? Well, enjoy rediscovering X4 and X5, guys! For those that have never played them; get to it!
The Final Round of the Sigma Body Contest Begins
By Sigma | 29 August 2014 - 08:39 AM
Eihingaurde Sigma ▬ Anima Sigma ▬ Emperor Sigma ▬ Ranger Sigma
(click each name for full-size artwork of each combatant)
Some thought it would never come. Some believed all was lost. They should have known never to doubt me because clearly, they were mistaken. The end is finally upon us. The ultimate, decisive clash between the top four victorious bodies begins this instant. A lot of time has passed since the previous round of the contest, but I wasn't about to let it slide. A king must be crowned! Or maybe an Emperor? Heh heh heh...the choice is yours, my little human helpers. It always has been, and you've come this far! Don't let me down now.
RULES
This will be a four way match. Each person is to submit (1) vote for their body of choice. You may share this contest socially for others to cast a vote. No cheating or boosting of votes will be tolerated(but I do appreciate the mischevious thought)! This final round of my body contest will proceed with a duration of (2) weeks (depending on feedback, this number may increase). Lastly, please enjoy this as much as I am!
"Give me a good fight, like you always do!"
Mega Man X3 Now on Wii U Virtual Console!
By Mac | 29 August 2014 - 03:07 AM
The day has finally arrived! Mega Man X3 is now on Nintendo's Wii U Virtual Console. For many a moon, fans have longed for likes of X3 and Mega Man 7 (a later release) for digital download. Seeing is how those two games are coveted cartridges, availability is likely a reason. That and the fact that they're exquisite gems that shouldn't be overlooked. So boot up the shop and commence purchase! It'll run you .99 and is worth every penny, if you ask me. If you haven't experienced X3 before then it's a must.
Thus concludes "Mega August". More Mega Man titles will be made available on Virtual Console soon (and PSN!)
X4 & X5 Coming to North American PSN
By Mac | 26 August 2014 - 10:11 PM
UPDATE: Mega Man X4 is now available for 5.99 on PSN!
What a pleasant surprise! Capcom has announced that Mega Man X4 and Mega Man X5 are on their way to becoming PSOne Classics on the PlayStation Store. You won't have to wait long to download them either, as X4 is slated for release next week on September 2nd, with X5 following a week later on September 9th. Nice! The PlayStation Store has been long overdue for a refreshing shot of Mega Man X. I imagine X6 will eventually find its way on there as well. Maybe we'll even see X7 and X8 among their PS2 lineup? Remember still, that X3 is to be released on Nintendo's Wii U Virtual Console shortly! I'm lovin' this influX of X.
The Sigma Body Contest Shall Conclude!
By Sigma | 18 August 2014 - 06:18 AM
As you might have surmised by now, this website has been experiencing some, how should I say, irregularities? Tell me, who do you think could've been the culprit behind the malfuctions? If you're thinking what I'm inferring, then congratulations; you're one of the worthy ones. As you can see, the site is operational again. I've decided to show a little mercy on this resilient congregation and in return, I decree that the Sigma Body Contest, my contest, finally be finished! This system has become a bit stifling, but once my new body has been chosen, I'll have a new vessel to inhabit!
Stay tuned, my subjects...
Sigma Gameplay in Dead Rising 3 DLC
By Sigma | 13 June 2014 - 07:22 PM
Would you like to know what I've been up to? Just take a look at the footage above! Well, almost me. Just some human poser using my armor and abilities and...face. Albeit a costume, I'm deadly as ever. The video shows my beam scythe in action, as well as my searing eye lasers. This guy also appears to execute a devastating "Sigma Crusher" attack. Flattering, but I am no M. Bison. Psycho Powers or not, he is but a mere human!

So, if any of my adoring underlings wish to play as theirs truly (or close to it), then download Super Ultra Dead Rising 3 Arcade Remix Hyper Edition EX Plus Alpha on this "Xbox Live" interface!
» NEWS ARCHIVE «