Take this Armor, Nick...
By Mac | 14 November 2013 - 12:14 AM
Well, this is a pleasant surprise.
Polygon reports
that upon completion of Dead Rising 3, the player will gain access to
X's very first armor
. The X-Buster comes separate, however, and will be available for use if the player completes the game on "Nightmare Mode". Judging from the name, I'm assuming that won't be an easy feat, but surely worth it for
a full set of armor
that dishes out the devastation seen in the footage above!
As you're probably aware, this isn't the first time a
Mega Man outfit was featured
in a Dead Rising game. The second game in the series had a
certain suit and shield
as well. I don't know about you, but I think the new armor suit looks the best. Head on over to
Polygon to read more
about the upcoming Dead Rising 3, hitting shelves November 22nd.
X2 Headed to European Wii U Virtual Console
By Mac | 11 November 2013 - 10:18 PM
It's no secret that there's been little Mega Man news lately. A few things here and there, sure, but not enough. Especially with Mega Man X things. Although it's little tidbits like these that come around to wet our whistles for a while. According to
this week's European eShop release list
, Mega Man X2 will be available for purchase this Thursday at the price point of €7.99 / £5.49. Remember, if you already downloaded X2 for the Wii, you will be met with a discount for the Wii U.
A North American release is sure to follow, but I'd like something new rather than other ports. I'm sure we all do. Still...it's something, right?
Credit:
Protodude
Stories of 22XX!
By Vérité | 09 November 2013 - 06:49 PM
The year is 22XX.

Humans live in peace alongside mass-produced, highly-intelligent robots called "Reploids." However, no technology available has been able to completely eliminate the potential danger that comes with robots running on artifical intelligence. As a result, malfunctions have started occurring, leading Reploids to start attacking humans.

There have been many such cases...

These Reploids, having exceeded the bounds of their AI protocols, are called "Mavericks." And in order to round them up and protect humans from the Maverick threat, the Maverick Hunters team was formed. Among the Maverick Hunters, one Reploid in particular stood out from the crowd as the most advanced Hunter of them all. His name is Sigma.

"Reploids of the world! Take up arms and unite! Now is the time for revolution!"

Out of the blue, this was Sigma's call to arms, igniting a large-scale rebellion across the globe. Sigma's ambitions were stopped by the Maverick Hunters, but to this day, Reploids continue to fight each other with the fates of humanity and the world itself at stake.

Will you be the valiant Hunter who fights to protect your world and your human creators? Will you be the Maverick scoundrel on a path to your own destruction to break free from the shackles of humanity? Will you stay on the fence, looking out for number one?

Welcome to the future.

After months of planning,
The Stories of 22XX, Megaman X9 roleplaying section is reopening today!
Take a look at the bottom of the forum for information on joining and have a great time.
All Hallows Eve
By Mac | 31 October 2013 - 10:50 PM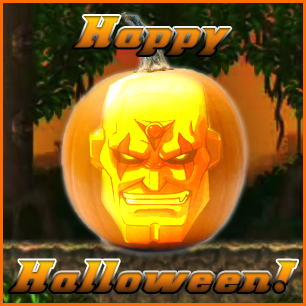 It's somewhat of a tradition to grace the front page with the age old Sig-O-Lantern. After all, this is the time of year for villains and otherwise unpleasant creatures. The streets fill with ghouls and ghosts, and maybe some goblins...or whatever's the in-thing this season. 2Spooky4Me, how 'bout you? (The new Ninja Turtles costumes do look pretty "accurate" though).
So what are your plans? Any parties to peruse? Any tricks to try? Any treats to eat? Whatever you may be up to, be safe and have a grand 'ol time!
Archie to Adapt Mega Man X!
By Mac | 03 October 2013 - 08:17 PM
If you've been keeping current with the ongoing
Mega Man comic book series by Archie Comics
, then you're well aware of its worthy success. For a lot of fans, though, there's been a yearning for a Mega Man X comic series ever since their Classic Mega Man adventure began. If you remember the rather shortlived run of
Dreamwave
, they intended to adapt the X series, but it never came to be due to their bankruptcy in January of 2005.
It's been a long time coming, but
IGN reports
that in Mega Man #34, to hit shelves in February 2014, the Mega Man X storyline will begin to be featured as "back-ups" with interior art by artist extraordinaire, Patrick "Spaz" Spaziante!
In the interview
, Ian Flynn and Paul Kaminski assure that their work will stay true to the games. "If it ain't broke, why fix it?" says Kaminski. Starting "in the months before the first game, setting things up for Sigma's revolution", we will see the world of 21XX fleshed out, complete with darker tone and deeper complexity.
Does this mean that Mega Man X will eventually have his own comic series? "Most definitely!" exclaims Flynn, "We really want to bring people a Mega Man X book, so we need the people to demand it. Be passionate and be loud, people!" This is the stuff MegaManX9.com thrives upon, especially when it pertains to the X series. It may not be X9, but a fresh comic book series? Count me in! Kaminski adds, "The back-ups serve to set the stage for a story we've got slated for Spring/Summer 2014. If fans and readers support it, you will see more X, plain and simple!"
You heard the men. It's time to do what we do best! We must show support and enthusiasm, extending our passion and gratitude and when February rolls around, share our feedback. To do so, shoot Archie Comics an e-mail or write them via their
Contact Page
. If social networks are more your thing, connect with them on
Twitter
or
Facebook
. They're excited and itching to begin work on the beloved X series and if these shorts go over well, which I'm confident they will, there's a high probability we'll see X and co. in their own serial. Let's make it happen!
Mighty No.9 Successfully Funded!
By Mac | 02 October 2013 - 01:16 AM
Mighty No.9 has been successfully funded and then some!
Just 25 minutes ago of this article, the Kickstarter fundraiser ended with the grand total of $4,031,550 with the assistance of 67,226 backers. Note that those numbers are not entirely accurate, as there are backers and uncounted PayPal pledges that will increase those amounts. Either way, the important part is that every, and I mean every stretch goal that was added has been met with gusto! Just
click here to see them all
.
I feel very proud to be a fan right now, even if it isn't exactly about Mega Man this time. I believe this is a good sign of possible things to come. A lot of great games have been placed in the hands of Kickstarter such as Shovel Knight, Shantae: Half Genie Hero, River City Ransom: Underground, Hyper Light Drifter, and more. Maybe one day Mega Man might grace the fundraising service in some form. Maybe a revival of Legends 3 with clear, concise financial foresight and interaction with the development team.
You never know...but for now, let's revel in the success of exceeding the funding for Mighty No.9! It's only the beginning of course, as the homepage of the project,
http://www.MightyNo9.com
will soon undergo changes, and the forum to go live. There will be more input to give, probably more polls in which to vote, so for the next 18 months or so there will be much to see and much to do!
Congratulations, Keiji Inafune and all of Comcept and affiliated parties. We're with you all the way!
UPDATES: Mighty No. 9's Final Week!
By Mac | 24 September 2013 - 06:13 PM
More updates! Man, I had a feeling there would be an influx of pledges during the final hours. I'm sure there will be many more to come. Having that been said,
yet another stretch goal has been met
. The "Intro Stage & Boss" are now ours! Next up is the "Support Character" and after that, are both more console versions. Moreover, it's been confirmed that Mega Man 2 composer, Takashi Tateishi, is officially on board for Mighty No. 9! This soundtrack is sure to be outstanding.
--------------------------------------------------
(click image for details)
Many updates to speak of! As of this writing, the project has now amassed $2,781,491 via Kickstarter and $54,395 via PayPal. That mean's we've
blasted through another stretch goal
! The "Beck & Call Online Co-op Mode" is now a go. What's more is that
more stretch goals have been revealed
! This being the
"Intro Stage & Boss"
goal, which I'm confident we'll meet, as well as the much anticipated
"PlayStation Vita & Nintendo 3DS Versions"
. Not to mention the goal of a
"Support Character"
of whom I hear may be wielding a sword. ;)
Now let's address the image above, shall we? What you see are nine different designs for Call, Beck's robotic, female ally. The time has come for us, the backers,
to vote on our favorite
! The victor will be used as the official design for Call. We've already seen some amazing fan art using some of the designs we've seen before, so it may be easy to predict the outcome, but I must admit, a couple of the newly revealed designs strike my fancy. They aren't colored yet because the focus of this consensus is strictly on the design aspect. To participate,
use this survey to place your vote
. The deadline is October 1st at 5:30 PM PST so vote swiftly and wisely!
The third development is due to overwhelming demand. Comcept is now offering
extra, physical copies (of the Steam PC, Mac, or Linux version) of Mighty No. 9 for an additional charge
! They are available as "add-ons" because you add the price onto your existing contribution. For the disc-based copy, you will need to add
$26 to your pledge ($31 for international backers)
. For the super neat "cartridge" USB drives, shaped in your choice of an NES or Famicom cart, you will need to add
$36 to your pledge ($41 for international backers)
. I wasn't intending to purchase a computer version, but this makes it tempting! In the works by
FanGamer
, are the designs of the aforementioned options which can be seen below. Keep in mind they are placeholder designs, but the renders should give you an idea of what you'll receive. For details on how to make one yours,
follow this link to the article
.
--------------------------------------------------
That's right, "Beckers"!
Mighty No.9's Kickstarter campaign is now in its final stretch
. With only a week to go, and with the assistance of roughly 43,136 backers, the project has managed to garner $$2,458,433 as of this writing. As you can see from the image above,
they are now accepting PayPal as a form of payment
, so there is behind the scenes funding that helps the cause too!
As it stands,
many stretch goals have been blasted through
. The next goal to reach is the "Extra End Stage & Boss", which sounds very desirable and even extends the game's length. I'm sure this goal will be reached soon enough. Not only that, but numerous Mighty Numbers have been revealed weekly.
Be sure to check out the updates
for detailed descriptions on who/what they are and how they came to be.
If you haven't made a pledge yet, then what are you waitin' for? There are many tiers to choose from to suit any budget, and if you feel like splurging, the incentives reward it. Transactions won't be completed immediately, so if you don't have the cash now, there is still time. Together, we can push Mighty No.9 as far as he can go! (`_´)ゞ
Sigma in a Box
By Mac | 22 September 2013 - 06:07 AM
(click for larger image)
Bluefin Tamashii Nations just revealed
via facebook
Sigma's new digs. Well, the Figuarts ZERO Sigma statue, that is. Snug in his box and ready to go, this indicates that they're gearing up for the
October release of this killer sculpture
. Standing at around seven inches, he waits inside, ready to be displayed proudly on your mantle or otherwise worthy area of notice.
I say "displayed", for those unaware, because that's what this figure is for. It's a non-articulated statue meant for display purposes only, but that's quite alright. For collectors and/or those gaming privy, that's usually what we do with figures and other merchandise anyway, right? I know, it's a bummer for those who appreciate the ability to pose figures, such as the D-Arts line, but hey, if this Sigma is well received, we may just see a D-Arts version on the horizon!
Keep an eye on your retailer of choice as again, Siggy should be on the scene soon.
This is Mighty No.9!
By Mac | 01 September 2013 - 02:06 AM
UPDATE 3:
The 2.2M goal has been reached! Mighty No. 9 is now confirmed to be having
PS3, 360 and Wii U versions
on top of PC, Mac and Linux! Plus, Inti Creates has announced they will be taking part in the development of fellow Kickstarter project,
Shantae: Half-Genie Hero
by Wayforward. Check out each project update on it
here
and
here
for more info and other goodies. Be sure to support Shantae if you're interested!
UPDATE 2:
Even further stretch goals have been revealed on Sept. 9:
Bonus Boss Rush
at 2M,
Challenge Mode
at 2.4M,
Extra End Stage & Boss
at 2.55M,
Online Co-op Challenge Mode
at 2.75M, and
PS4 and XBox One versions
at 3.3M! Even after this, there is STILL more to be revealed! We'll keep you posted.
UPDATE:
Mighty No.9 has been funded in less than 48 hours! Can all the stretch goals be reached? They include
two more stages
at 1.2M,
Mac and Linux versions
at 1.35M,
New Game+ and Turbo Mode
at 1.5M,
Making-of Documentary
at 1.75M, and finally,
PS3, 360, and Wii U versions
at 2.2M!
--------------------------------------------------
Keiji Inafune, legend in the video game industry and "father" of many franchises including Dead Rising, Onimusha, and perhaps most importantly, Mega Man,
has taken to Kickstarter
, embarking on a bold and unyielding quest to bring back the special joy of classic 8-Bit/16-Bit side-scrolling action gaming! This, my friends, is
Mighty No.9
!
As you can plainly see, this project embodies the spirit of the Blue Bomber while having tastes of other influences peppered about. The team behind this project is comprised of Inafune himself, along with an all-star cast of Mega Man alumni including the likes of Nayoa Tomita, level designer, and Manami Matsumae, composer of the original hit
Mega Man
, Shinsuke Komaki, character/enemy design work on
Mega Man Legends
, and the esteemed company, Inti Creates, with CEO Takuya Aizu being responsible for "executing on the designs his company and Comcept create together for Mighty No. 9." Below is a brief list of what the game is all about.
Mighty No. 9 is an all-new Japanese side-scrolling action game that takes the best aspects of the 8- and 16-bit era classics you know and love, and transforms them with modern tech, fresh mechanics, and fan input into something fresh and amazing!


You play as Beck, the 9th in a line of powerful robots, and the only one not infected by a mysterious computer virus that has caused mechanized creatures the world over to go berserk. Run, jump, blast, and transform your way through six stages (or more, via stretch goals) you can tackle in any order you choose, using weapons and abilities stolen from your enemies to take down your fellow Mighty Number robots and confront the final evil that threatens the planet!


Every aspect of development—art, level design, music, programming, etc.—is being handled by veteran Japanese game creators with extensive experience in the genre, and with Mega Man in particular, all the way up to and including the project's leader, Keiji Inafune himself! Backers will have unprecedented access to seeing this team at work through blogs, podcasts, videos, concept art—the works!


Mighty No. 9 is being developed for the PC with gamepad support (of course!), and will be made available through Steam and DRM-free digital distribution methods. Other platforms, including home consoles, Mac, and Linux, are a high priority, but only if we can afford them via stretch goals. Should we reach those goals, anyone funding the project will be allowed to choose which version of the game they would like to receive. The estimated release date is spring 2015.
Needless to say, I am excited to see this project come to fruition. With the funding goal set at $900,000,
fan's direct contributions via Kickstarter
will play a vital role in the project's fate. For a complete compendium of information and an opportunity to make your own contribution to the project, make haste to its official Kickstarter page:
http://www.kickstart...no9/mighty-no-9
-- There you will find screenshots like the ones below, as well as a very special, touching, and heartwarming video about the conception and future of Mighty No.9.
Fight, Keiji Inafune! We are with you!
Return of the "Light" Capsule!
By Mac | 14 August 2013 - 04:04 AM
Anyone still remember that awesome custom Light Capsule that
we covered a little over a year ago
? Back at the drawing board,
BC Direct
has been hard at work revising and refining his craft and is now proud to reveal his "Mark IV Commission Capsule"!
After he quit making them, he began to receive tons of inquiries about the capsule. So eventually, he felt it was time to re-enter the studio in attempt to make it better than before. I think he succeeded! The dome atop the capsule is more rounded and glows much richer, the tubes/hoses being thicker, as well as the rounded parts on the sides being wider in diameter. Overall, it's constructed of sturdier plastic and is his most accurate attempt to date. Possibly the coolest part, the tube and capsule colors are now fully customizable.
If your X D-Arts is in need of an "upgrade", you can place an order by reaching BC Direct at his e-mail: bcdirect720 at gmail.com. You would do well to follow his
Twitter
for updates too, because there
might
be more "mega" things to come......what? Why are you looking at me like that? *walks away*
» NEWS ARCHIVE «