Mega Man X5 Now on NA PlayStation Store
By Mac | 09 September 2014 - 11:20 PM
After Mega Man X4 released just six days ago on the North American PSN, it's Mega Man X5's turn in the spotlight! You can download it for the same 5.99 price tag as its predecessor for play on your PS3 and Vita all the same. I saw some images across the net of X4 running on the Vita and it looks delightful. Fits like a glove! I'm sure X5 will follow suit. As for X6, it's still waiting for its time to shine. I'm sure it's only a matter of time, but there's also legal and licensing hurdles to jump over before older titles can re-emerge. I'm sure the Japanese opening and ending themes are part of the obstacle course.
Ehh, what are ya gonna do? Well, enjoy rediscovering X4 and X5, guys! For those that have never played them; get to it!
The Final Round of the Sigma Body Contest Begins
By Sigma | 29 August 2014 - 08:39 AM
Eihingaurde Sigma ▬ Anima Sigma ▬ Emperor Sigma ▬ Ranger Sigma
(click each name for full-size artwork of each combatant)
Some thought it would never come. Some believed all was lost. They should have known never to doubt me because clearly, they were mistaken. The end is finally upon us. The ultimate, decisive clash between the top four victorious bodies begins this instant. A lot of time has passed since the previous round of the contest, but I wasn't about to let it slide. A king must be crowned! Or maybe an Emperor? Heh heh heh...the choice is yours, my little human helpers. It always has been, and you've come this far! Don't let me down now.
RULES
This will be a four way match. Each person is to submit (1) vote for their body of choice. You may share this contest socially for others to cast a vote. No cheating or boosting of votes will be tolerated(but I do appreciate the mischevious thought)! This final round of my body contest will proceed with a duration of (2) weeks (depending on feedback, this number may increase). Lastly, please enjoy this as much as I am!
"Give me a good fight, like you always do!"
Mega Man X3 Now on Wii U Virtual Console!
By Mac | 29 August 2014 - 03:07 AM
The day has finally arrived! Mega Man X3 is now on Nintendo's Wii U Virtual Console. For many a moon, fans have longed for likes of X3 and Mega Man 7 (a later release) for digital download. Seeing is how those two games are coveted cartridges, availability is likely a reason. That and the fact that they're exquisite gems that shouldn't be overlooked. So boot up the shop and commence purchase! It'll run you .99 and is worth every penny, if you ask me. If you haven't experienced X3 before then it's a must.
Thus concludes "Mega August". More Mega Man titles will be made available on Virtual Console soon (and PSN!)
X4 & X5 Coming to North American PSN
By Mac | 26 August 2014 - 10:11 PM
UPDATE: Mega Man X4 is now available for 5.99 on PSN!
What a pleasant surprise! Capcom has announced that Mega Man X4 and Mega Man X5 are on their way to becoming PSOne Classics on the PlayStation Store. You won't have to wait long to download them either, as X4 is slated for release next week on September 2nd, with X5 following a week later on September 9th. Nice! The PlayStation Store has been long overdue for a refreshing shot of Mega Man X. I imagine X6 will eventually find its way on there as well. Maybe we'll even see X7 and X8 among their PS2 lineup? Remember still, that X3 is to be released on Nintendo's Wii U Virtual Console shortly! I'm lovin' this influX of X.
The Sigma Body Contest Shall Conclude!
By Sigma | 18 August 2014 - 06:18 AM
As you might have surmised by now, this website has been experiencing some, how should I say, irregularities? Tell me, who do you think could've been the culprit behind the malfuctions? If you're thinking what I'm inferring, then congratulations; you're one of the worthy ones. As you can see, the site is operational again. I've decided to show a little mercy on this resilient congregation and in return, I decree that the Sigma Body Contest, my contest, finally be finished! This system has become a bit stifling, but once my new body has been chosen, I'll have a new vessel to inhabit!
Stay tuned, my subjects...
Sigma Gameplay in Dead Rising 3 DLC
By Sigma | 13 June 2014 - 07:22 PM
Would you like to know what I've been up to? Just take a look at the footage above! Well, almost me. Just some human poser using my armor and abilities and...face. Albeit a costume, I'm deadly as ever. The video shows my beam scythe in action, as well as my searing eye lasers. This guy also appears to execute a devastating "Sigma Crusher" attack. Flattering, but I am no M. Bison. Psycho Powers or not, he is but a mere human!

So, if any of my adoring underlings wish to play as theirs truly (or close to it), then download Super Ultra Dead Rising 3 Arcade Remix Hyper Edition EX Plus Alpha on this "Xbox Live" interface!
Full Mega Man Final Smash Sequence Shown!
By Mac | 11 June 2014 - 04:03 AM
UPDATE:
Click here to watch this amazing moment seen from inside the audience
! Such resounding affection for Mega Man. *tear*
At the Super Smash Bros. Invitational Tournament, contender Hugo "HugS" Gonzales selected the Blue Bomber as his fighter. After that amazing
Final Smash reveal
a couple months back, it goes without saying everyone was chomping at the bit to see just how it looks and works in-game. Round after round, he did battle with the super fighting robot, but there was one thing he always failed to do. That is, capture the damn Smash Ball! However, the overwhelming fan response kept bringing HugS and Mega Man back as a "fan favorite" and eventually, during the final moments of a later round, the only Smash Ball to appear in the match became his. At last, the time had come, and the place erupted with applause and excitement.
Although HugS didn't win that round, following the match, almost
everyone
in the audience flipped their fan favorite "character cards" to Mega Man. Again, he was pushed through to the next round and even though HugS and Mega didn't ultimately win the tournament, it was clear that this suspenseful moment of "revealing" the full Final Smash sequence was a satisfying reward in itself.
Mega Man E3 '14 News & Updates
By Mac | 09 June 2014 - 10:51 PM
E3 is now upon us and with it, an almost overwhelming amount of video game information and even new game reveals. This is the industry's big day, and while we all have our own varying points of interest, we all share the same hope that something Mega this way comes. Below we'll cover all relative information shown thus far.
First up, during Microsoft's Xbox Conference,
Capcom revealed
a new add-on for
Dead Rising 3
called "
Super Ultra Dead Rising 3' Arcade Remix Hyper Edition EX + α
". They sure covered all bases with that name, but what does such a name entail? Arcade style, four player co-op, cosplaying action of course! In this DLC, you'll be able to play as any of the Dead Rising protaganists, including Frank and Chuck from the first and second games respectively, cosplaying as a selection of Capcom characters and apparently, using some of their unique abilities! One such costume we know of is of, wait for it...
...Sigma! Sporting his X4 duds complete with beam scythe. You'll get to do
some reaping with it
, as well as
burning some undead with his eye lasers
. While there might be more Mega Man costumes to wear, there's certainly some Mega Man inspired power ups and in-game "advertisements", such as the Mega Man X4 logo. Heck, even the
official trailer
has a Mega Man X remix in it.
Capcom Unity has announced
that there will be a slew of Capcom titles coming to Nintendo's Wii U Virtual Console. Some will be released soon and some, later, but there will be
TEN
Mega Man games among the titles. Those games include,
Mega Man 5 (NES)
Mega Man 6 (NES)
Mega Man 7
Mega Man X3
Mega Man Zero
Mega Man Zero 2
Mega Man Battle Network
Mega Man Battle Network 2
Mega Man Battle Network 3 (Blue & White)
Mega Man Battle Chip Challenge
Yes, you read correctly,
Mega Man 7
and
Mega Man X3
are finally being released on Virtual Console! They've been the oft-requested titles, and now they're on their way. The games that will be released a bit
later
are Zero 2, Battle Network 2, and Battle Network 3, but that's okay! Man, they don't have much left to release. Could this signify some new material henceforth? Wishful thinking of course, but you have to wonder. Regardless, this is some exciting news for those out there who haven't played all these awesome games.
That's all to speak of for now, but if anything else is shown, it'll definitely be covered here!
Potential Mega Man X Figure Needs Your Vote!
By Mac | 05 June 2014 - 07:36 PM
Alright, everyone! You know how it is around here. At its core, MegaManX9.com is a community that wants more Mega Man X and seeks to have its voice heard. While another game is the primary focus, any time there is a way to share our input on anything X related or Mega Man in general, we are inclined to be on top of it. Well, one such opportunity has recently risen.
Over at
Protodude's Rockman Corner
, he has been asked to seek out the opinions of fans regarding a unique, unprecedented Mega Man figure. Depending on the feedback received, it will naturally influence the future of said figure. You're probably wondering what makes this particular piece of Mega Man merchandise different from any other figure that's been released in the past. The company that is interested in producing the figure says it will be a
high end 1/6 scale Mega Man X action figure (about 12")
and will utilize diecast and plastic components. The
X-Buster
would be illuminated by an
LED
. MSRP would be in the ballpark of
$149.99-$199.99 USD
with plans for expansion
accessory packs of other Armors
.
All that you have to do is
leave a comment on the corresponding article on the Rockman Corner
. Clearly give a
YES
or
NO
answer, and elaborate on your feelings if you'd like. As of now, there's no deadline, so take your time. If you want my opinion, I'll tell you right now that the premise of such a figure is downright exciting. Envisioning the finished product, I see something absolutely beautiful. In short,
YES
!
Mega Man Xtreme 2 Released on 3DS VC
By Mac | 29 May 2014 - 08:46 PM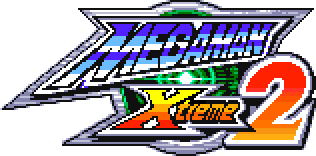 As "Mega May" draws to a close, the second Mega Man Xtreme installment truly sends it off with a bang. Xtreme 2 took everything that was right about its predecessor and improved upon it. A new storyline with stages and characters, both familiar and fresh, was a winning combination. Not to mention the inclusion of a playable Zero. For a handheld title of its time, it was quite impressive and very satisfying. Its rarity grows with time, and its price has maintained or even exceeded itself for a complete copy. Although that's why the convenience of Nintendo's Virtual Console and other such services is lauded among gamers.
Mega Man Xtreme 2 is available for download on the Nintendo 3DS eShop for $4.99.
» NEWS ARCHIVE «